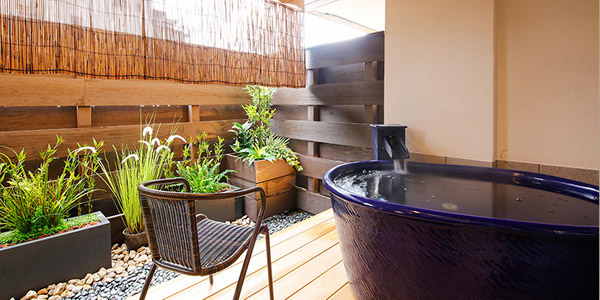 New guest rooms where you can enjoy a private open-air bath at any time.
These rooms are Japanese-style rooms of 16.5 ㎡ with open-air hot spring baths themed on the colorful feathers of a peacock. The Japanese-style rooms are decorated with Italian furniture selected by the owner.
Staying in a cozy colorful room will deepen the intimacy between you and your partner.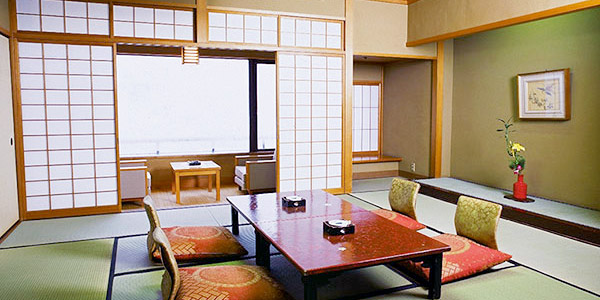 An upscale guest room for group tours and lavish trips.
The semi-deluxe room comprises of a main room of 20.70 ㎡ and an adjoining room of 10.94㎡ with a spot garden in the entrance hallway.
This room is recommended for those who are looking for a trip with a touch of luxury to celebrate anniversaries etc. This room is also ideal when a group member wants to sleep alone in the adjoining room.

A comfortable and spacious room for families and group tour guests.
This room is large enough to accommodate up to 10 persons. There is a main room of 20.70 m2, an adjoining room of 13.2 ㎡, and an anteroom of 10.94㎡.
The large room is great for group tour guests and families who want to have fun in their room at night.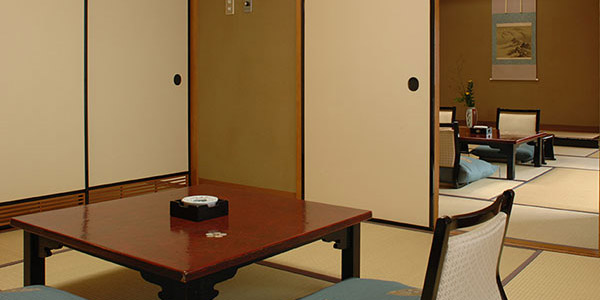 A spacious and relaxed deluxe room in a formal style. This deluxe room comprises of a main room of 27.36 ㎡, an adjoining room of 13.2 ㎡, and an anteroom of 7.45 ㎡ on the far right. In addition, the room includes a mini-kitchen on the right hand side near the entrance.
The main room and adjoining room is partitioned by a wall, making it perfect for group tour guests and extended families to share during important family occasions and celebrations.
Relax and enjoy our luxury large room.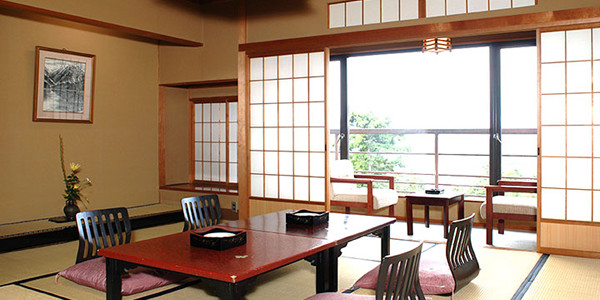 An authentic Japanese-style guest room that oozes relaxation. These Japanese-style rooms measure at least 16.5 ㎡, and are well-appointed with entrance halls, baths and toilets. Find peace in the tranquil Japanese atmosphere that is so special to a ryokan. Recommended for various parties from solo travelers to group tour guests.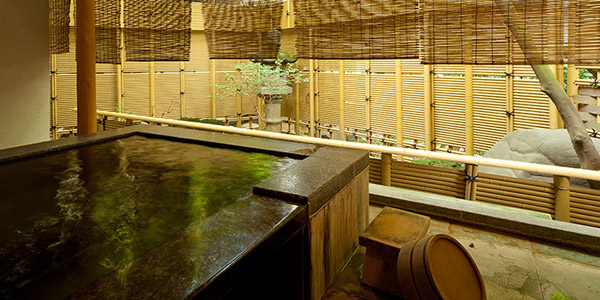 Experience this spacious Japanese sukiya style of building main room, and find solace in the "nemuri-no-ma (room for a good sleep)" wrapped in the gentle warmth from the designer lamps. This room has a free flowing open-air bath which is extremely rare. Enjoy beautiful views of the garden during a leisurely soak in our hot tub big enough for two.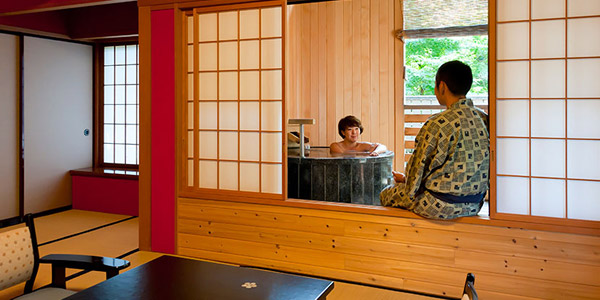 Vermillion lacquered walls, an architectural tradition of the Kaga region, are interwoven with furniture made by a renowned designer, Eiri Iwakura, to create a modern style Kaga guest room.
Recline on furniture with a 'simple is best' theme, and enjoy Hokoriku's seasonal tastes.
When you gaze out at the trees over the rounded edges of the hot tub, you can experience a mystical atmosphere as if you were in a spring deep in the forest.
Enjoy the gentle healing ambience, and the fresh spring water from Yamashiro Onsen's largest spring source.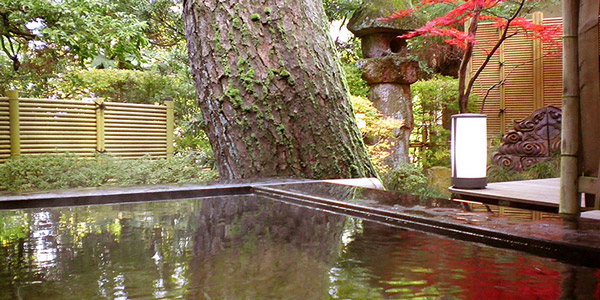 With a garden and tea room, this is an authentic Japanese guest room where you can enjoy all the colors and tastes of the four seasons.
A real 7.44㎡ size tea room and veranda opens out onto a garden creating an impression of traditional Japanese refinement.
From the spacious free flowing open-air bath, you can enjoy the scenery whose expressions change with the seasons from lush greens, through autumn reds, to winter snow, and where the big old pine tree that gave us the name "Shofuan" sits.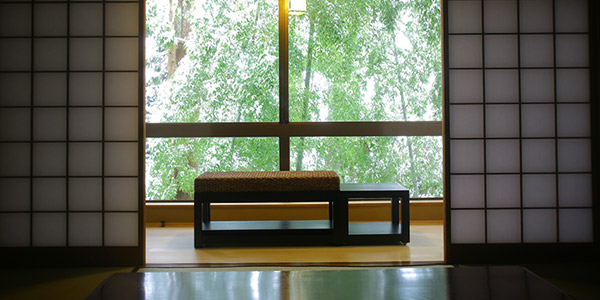 Enclosed by a bamboo thicket, this is a guest room with a "nemuri-no-ma (sleep haven)" where you can experience the healing effect of its unhurried atmosphere.
Through the perfectly round window of the "nemuri-no-ma", you'll enjoy the relaxed, natural scenery.
Stop for a moment and listen to the twittering birds and chirping crickets, as the breeze and sunlight filters through the trees and you soak in your modest hexagonal hot tub.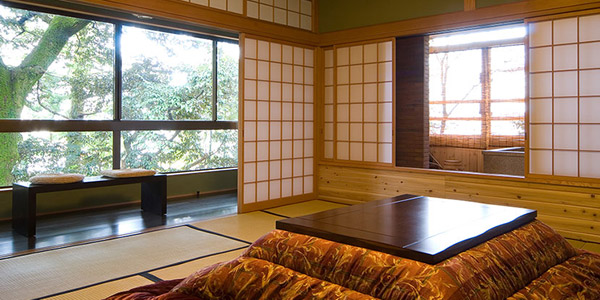 The only non-smoking room with a "nemuri-no-ma (sleep haven)" in which the soft textured earthen walls create a warm sensation.
From your open-air bath, gaze upon the lush trees covering the surroundings, and at night, the lights of the hot spring town will spread out below you.
Daytime, evening, night time and morning offer varied scenery for you to enjoy.
Relax on the bench on the veranda, and gazing through the window you can glimpse the huge old trees standing in the woodland.